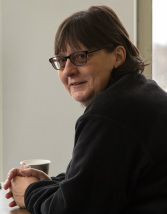 EDITOR • PRODUCER • POST SUPERVISOR
Sharon Zurek is the owner of Black Cat Productions in Chicago and enjoys working on independent features and social issue documentaries, especially those focusing on strong women and queer content. She is an award winning filmmaker and has an extensive background in film production and post production. She most recently produced and edited,
A MIND IN QUICKSAND - LIFE WITH HUNTINGTON'S
, an award winning feature documentary that examines what it is like to be diagnosed with a life-changing disease that impacts a person's cognitive, emotional and physical abilities in the prime of their life. The program will be aired nationally on PBS in May 2015 to support Huntington's Disease Awareness Month. Sharon greatly enjoys the collaborative process of storytelling in the edit room where the final tale is told. With solid technical skills in post production and years in production, she understands what it takes to get the material from the written page to the screen.
Photo by Benjamin S Rogerson
---